EVOLVEO G750 is the ideal choice for any gaming PC. It stands out for its efficiency with 80 PLUS GOLD certification guaranteed up to the 90% efficiency. Power supply is fully modular. which means that only the most essential cables can be connected. Silent 140mm fan is also a feature of the PSU. Combined with semi-passive cooling up to 30% load. quiet operation of the power supply is guaranteed. Protection against damage to the components in the PC and the power supply itself is also an essential part of the design.
80 PLUS GOLD certification
EVOLVEO G750 gaming PSU is 80 PLUS GOLD certified. This certification guarantees high efficiency under different types of power load. When the power supply load is about half. the efficiency is guaranteed to be 90%. At high or low loads. the efficiency of the power supply drops. For this reason. the efficiency is 87% at 20% or 100% load. There is also. protections against damage to the power supply or components in the PC. Short-circuit. overload. overvoltage. undervoltage and thermal protection are essential features.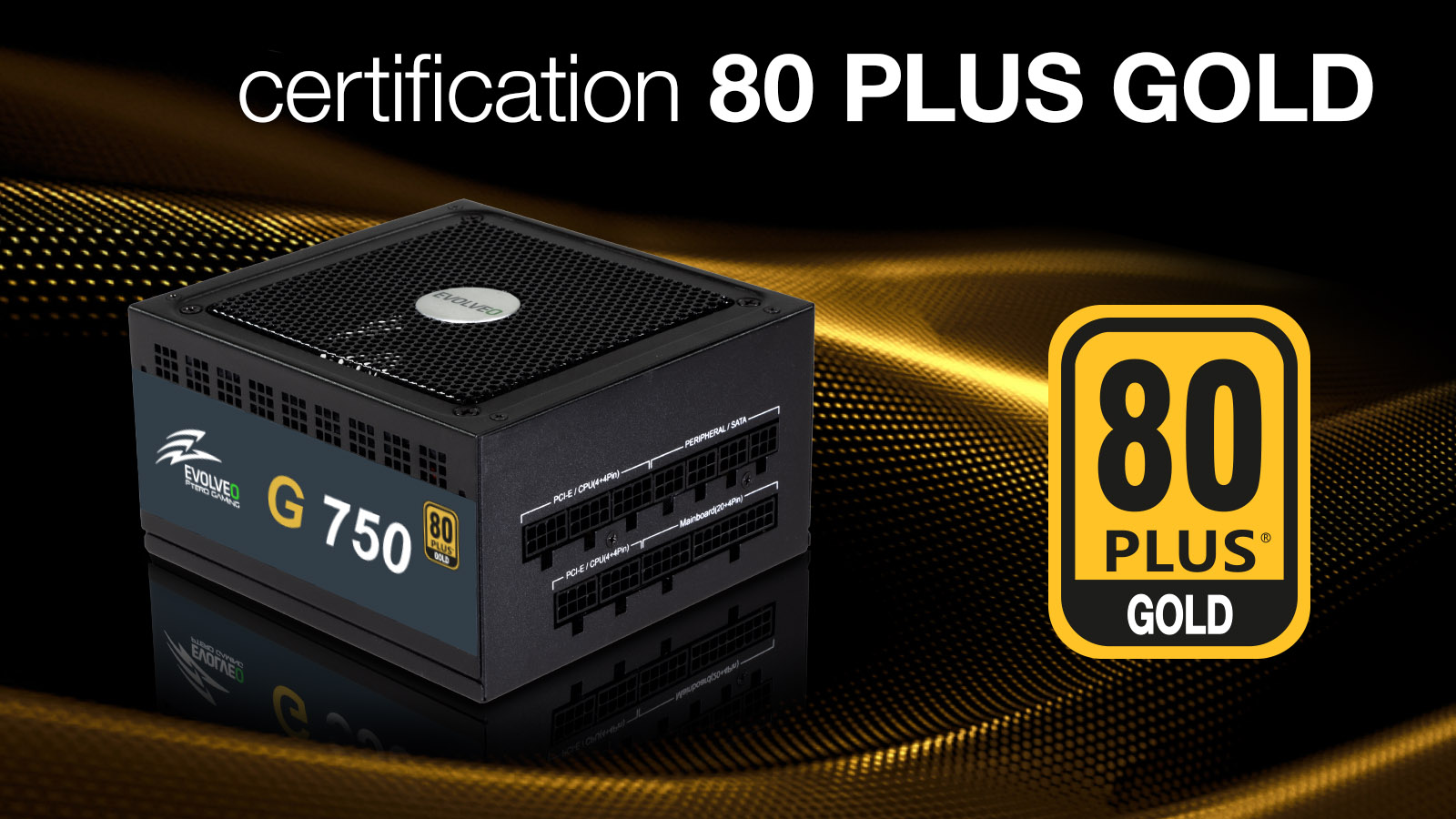 Quiet semi-passive cooling with 140mm fan
EVOLVEO G750 is equipped with a 140 mm fan that can effectively cool the power supply. Power supply is equipped with a partial passive cooling function. When the load is up about 30%. the fan is not spinning. The speed controler on the power supply also helps with quiet operation and increases the longevity of the fan itself. due to less wear and tear.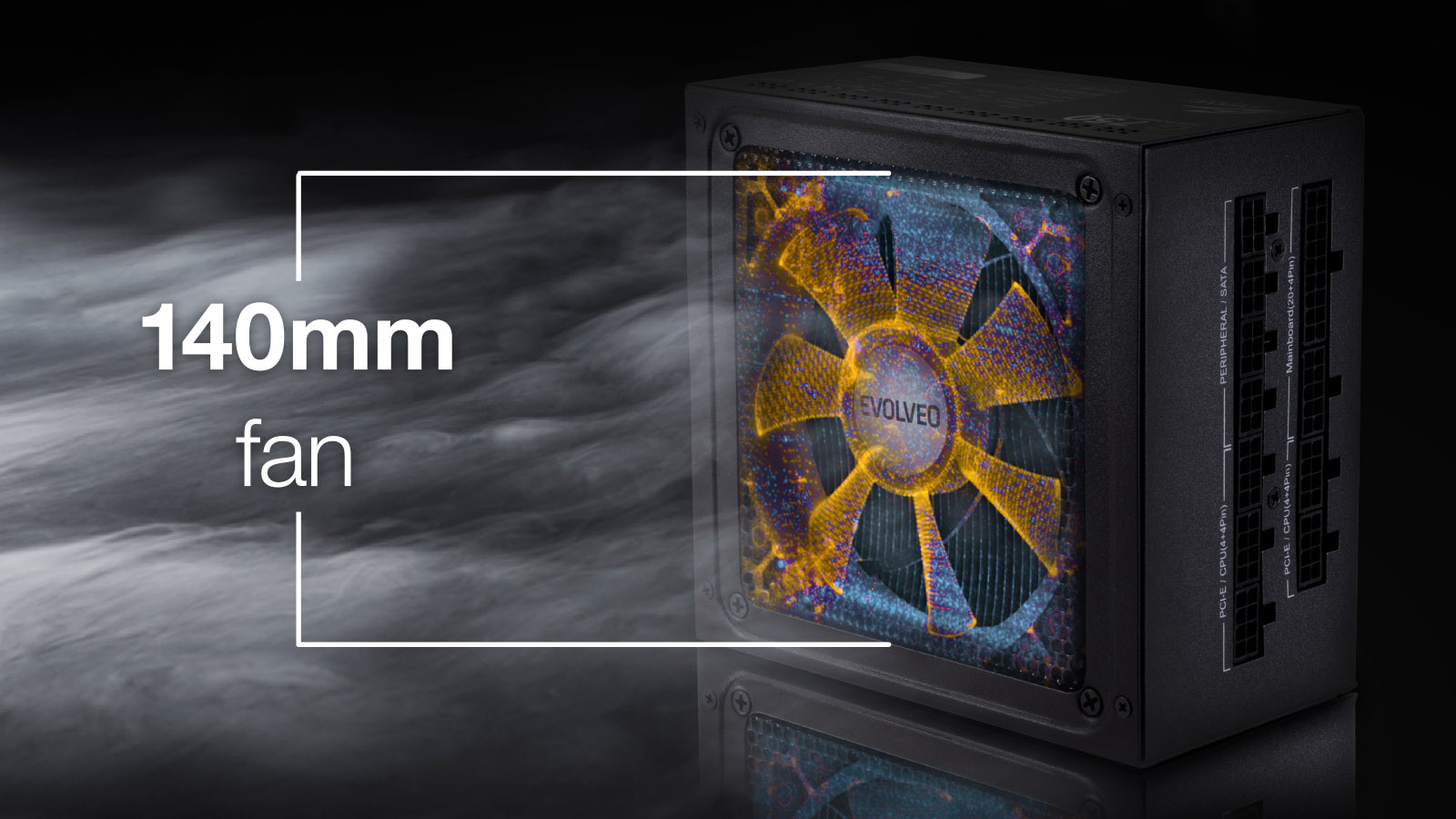 Modular cables
The complete modularity of the power supply means you don't have to keep any cables in the case that you're not currently using. The result is much better internal organisation and much more efficient cooling. There are enough cables available for the power supply to cover most of your component power requirements.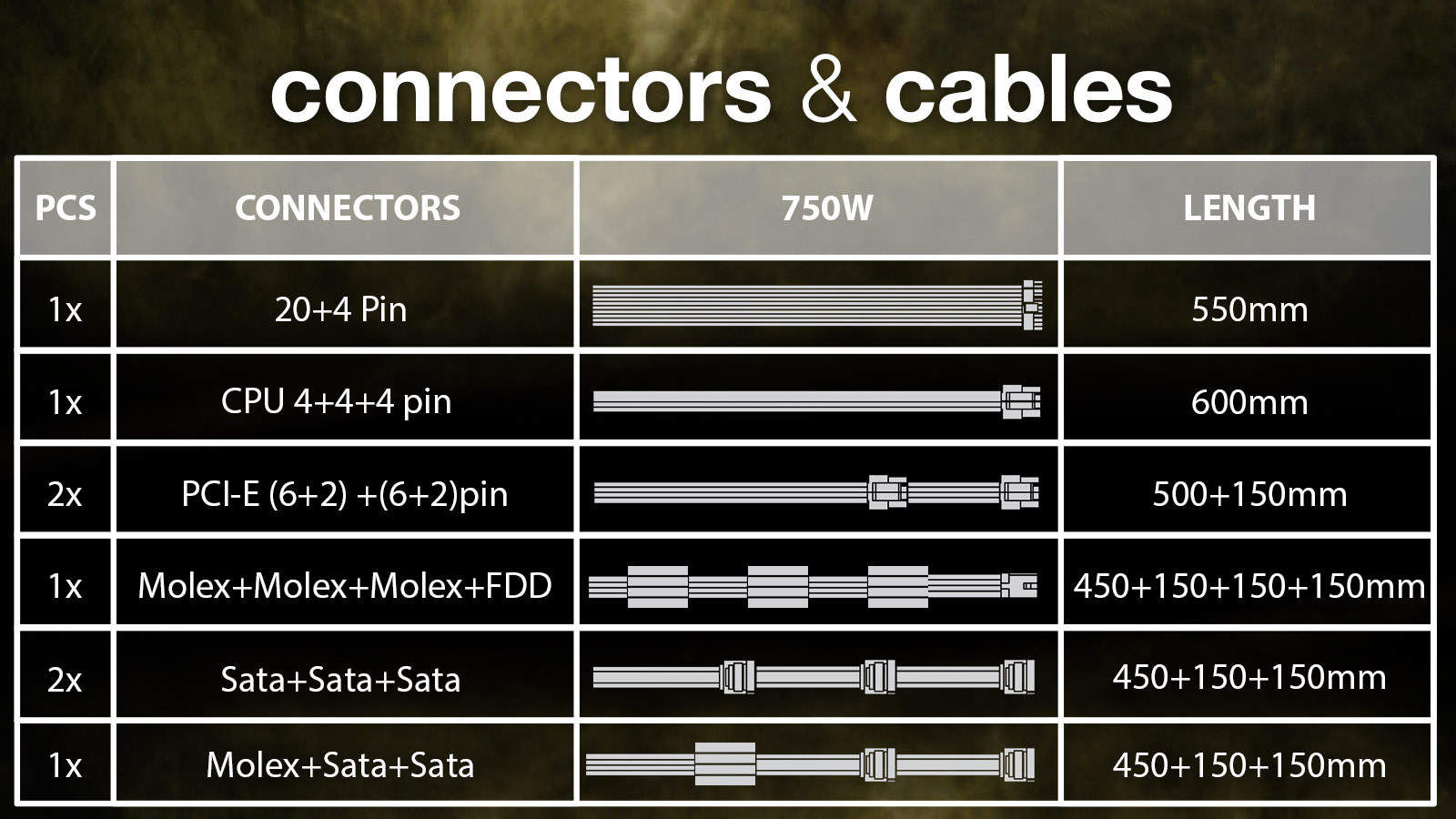 Specifications
• Silent 14cm fan with speed control
• active PFC
• 80+ GOLD certification
• Efficiency: 90%
• colour: matte black
• Minimum efficiency 87%/90%/87% at 20%/50%/100% load
• Short circuit. overload. overvoltage. undervoltage and thermal protection
• Semi-passive cooling up to 30%
Cables
20+4 Pin (550mm)
CPU 4+4+4+4 pin (600mm)
PCI-E (6+2) +(6+2)pin (450+150mm)
PCI-E (6+2) +(6+2)pin (450+150mm)
Molex+Mole+Molex+FDD(450+150+150+150mm)
Molex+Sata+Sata(450+150+150mm)
Sata+Sata+Sata (450+150+150mm)
Sata+Sata+Sata (450+150+150mm)