Fry, grill, defrost and dry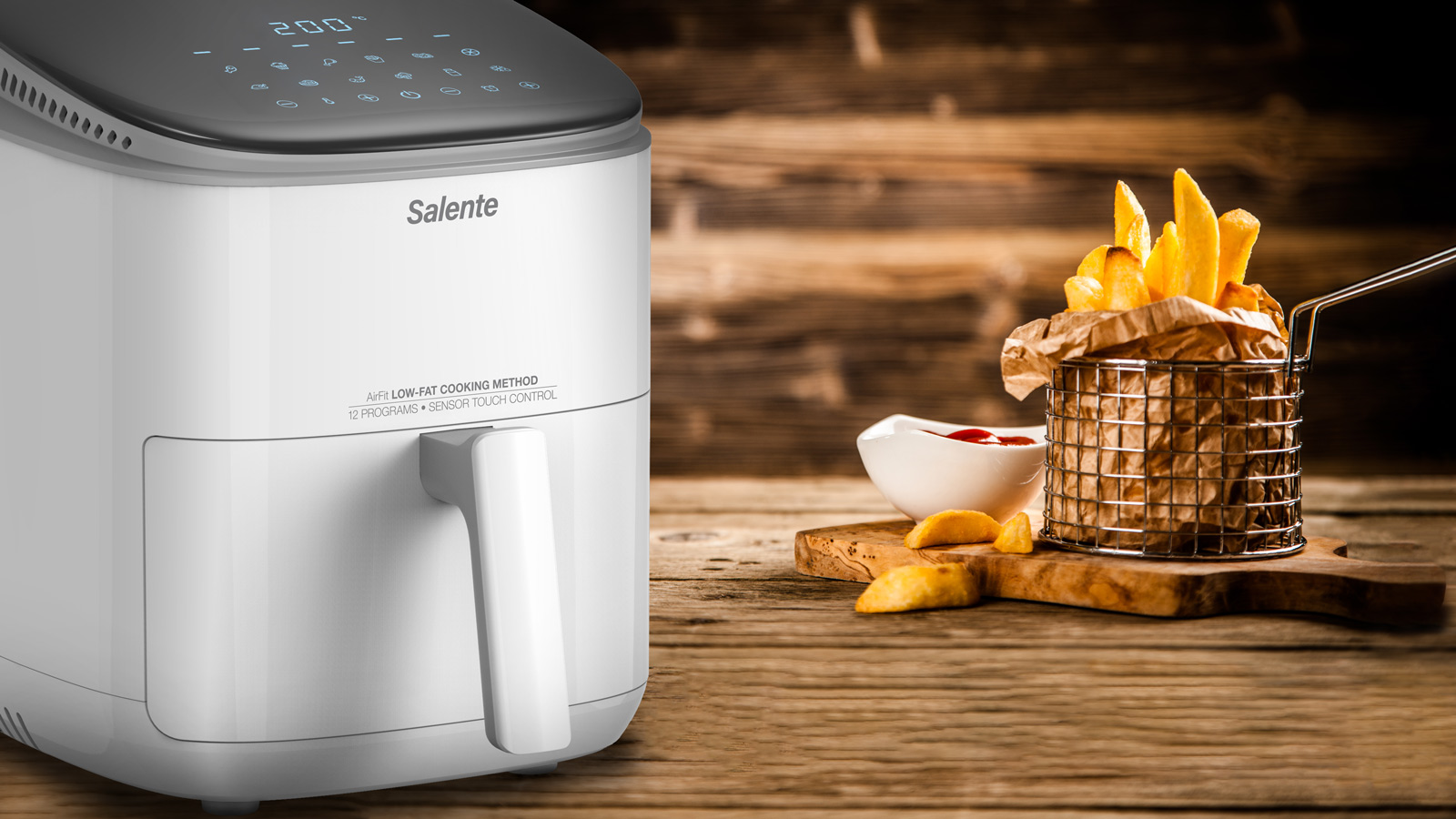 The Salente AirFit air fryer meets today's highest demands for healthy and fast food preparation, offering a combination of several cooking methods from frying and grilling to drying and defrosting. It allows even the most demanding cooks and chefs to set the temperature in the range of 80-200 °C in 1 °C increments and to set the cooking time in the range of 1-60 minutes in 1 minute increments.
Healthier, faster, more economical and odourless
The Salente AirFit model offers:
– 2x faster food preparation
-Up to 90% oil saving when frying
– 50% electricity saving
You can eat healthier without losing your favourite fries and save a lot of money on electricity and expensive oil. The hot air fryer needs almost no oil for frying thanks to the circulation of hot air. Compared to a conventional fryer, it saves up to 90% of the oil and keeps your kitchen free from the smell of burnt oil. Compared to a conventional electric oven, it prepares food up to 2x faster.

12 preset programs
The incredible speed of cooking is helped not only by the fast hot-air cooking principle itself, but also by the 12 preset programmes, where you can prepare food by simply touching one of the 12 recipes on the touch control panel. The fryer takes care of the rest – it sets the recommended time and temperature. The ultimate in convenience is the ability to set the time and temperature individually – even with presets, you can change the time or temperature to suit your culinary experience.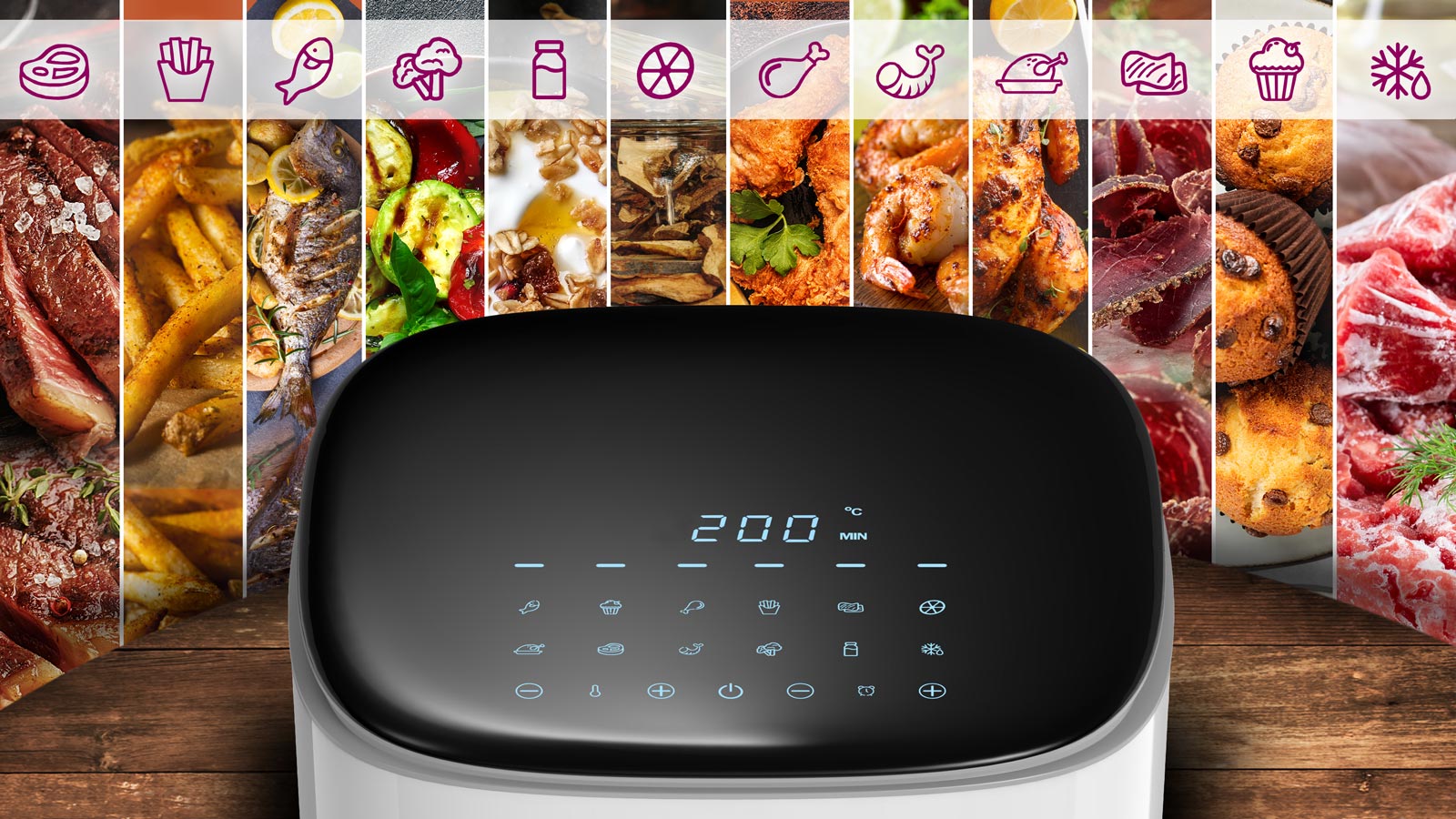 Program
Symbol displayed on the dsiplay
Teplota
Time
Default settings
All icons are lit
180°C
15 min.
Fish
160°C
15 min.
Muffin
160°C
30 min.
Chicken leg
185°C
40 min.
Fries
200°C
18 min.
Dried meat
65°C
6 hours
Dried mushrooms and fruits
50°C
2 hours
Big chicken
200°C
40 min.
Steak
200°C
10 min.
Shrimp
160°C
12 min.
Vegetable
185°C
12 min.
Yoghurt
43°C
8 hours
Defrost
40°C
35 min.
Powerful RapidAir fan
The Salente AirFit hot air fryer is equipped with a high-performance RapidAir fan for fast and even heating without the need to rotate the food. The hot air is forced to circulate evenly around the food, resulting in even faster cooking results and more even browning.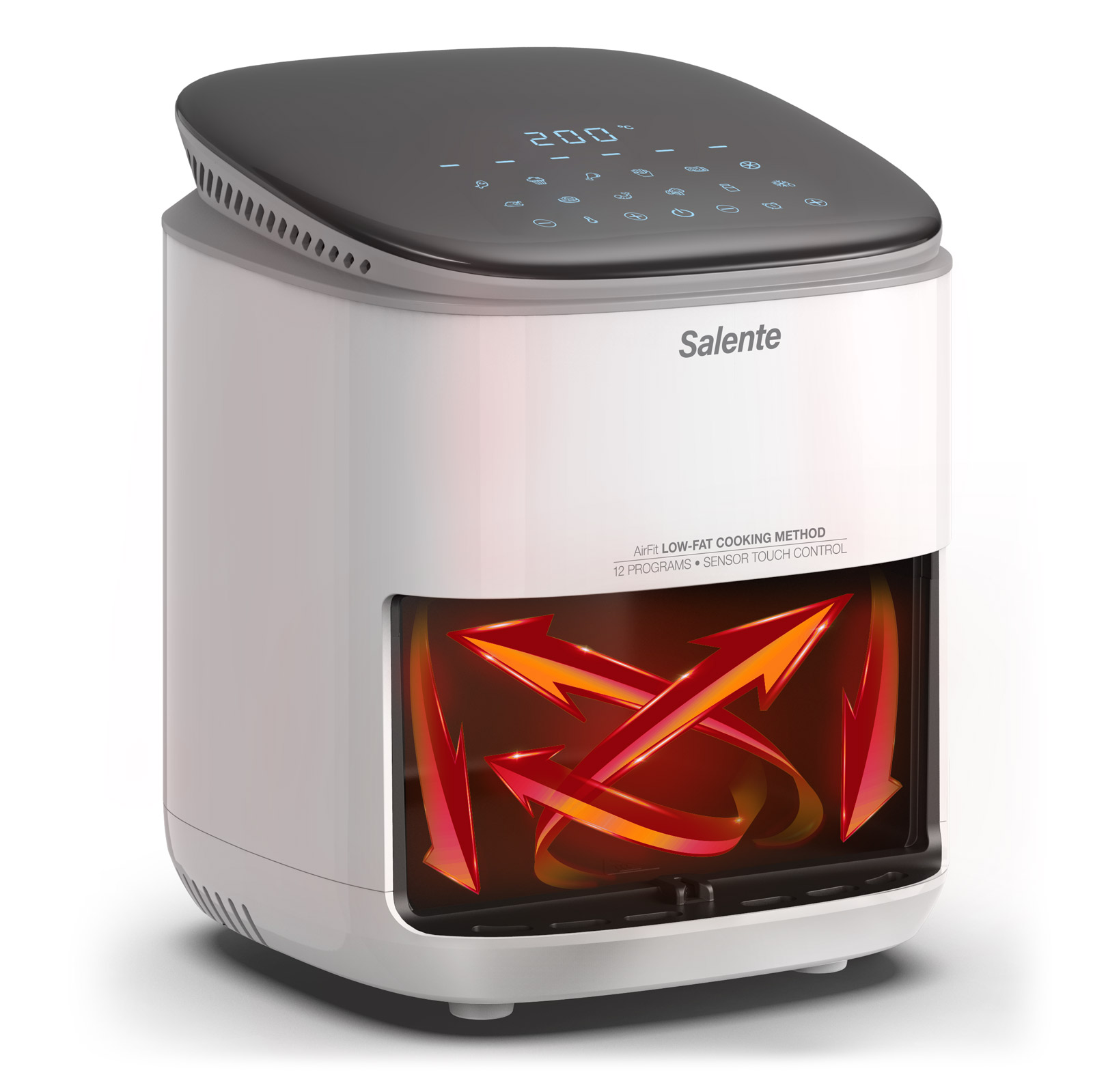 Easy to clean
Every housewife's dream – the frying basket and frying grid have a non-stick coating and are dishwasher safe. This saves not only a lot of time with hand washing, but also money on water and detergents.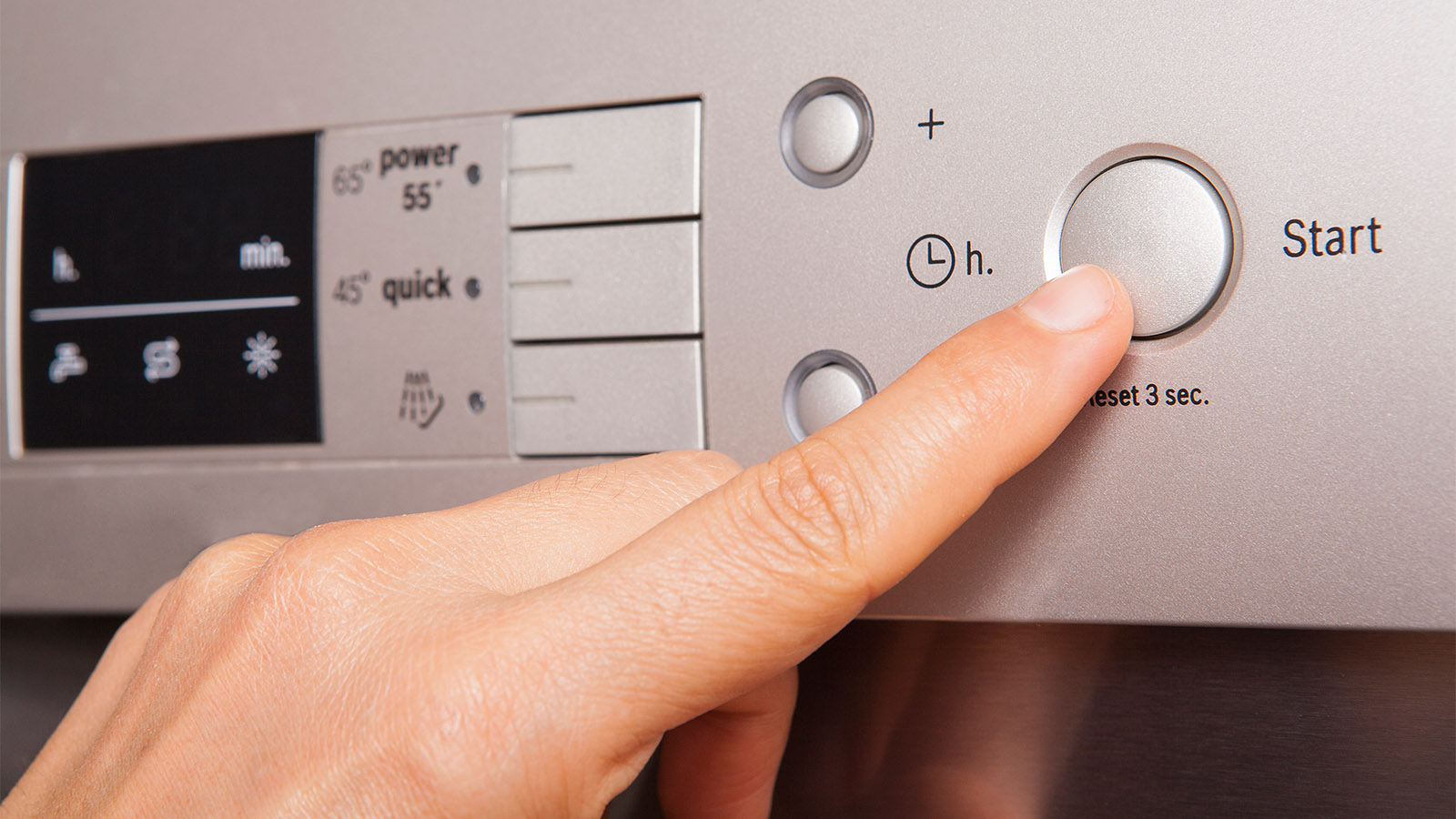 Complete Specifications:
Capacity 3.5 litres
Adjustable temperature 80-200 °C in 1 °C steps
Timer 1-60 minutes in 1 minute increments with automatic shut-off
12 preset programs:

Fish
Muffins
Chicken thighs
Fries
Dried meat
Dried mushrooms, fruits and vegetables
Chicken
Steak
Shrimp
Vegetable
Jogurt
Freezing

Frying & Grilling & Drying & Defrosting 4in1
Advantages over cooking in a conventional oven:

2x faster food preparation
Up to 90% oil saving when frying
50% electricity saving

Powerful RapidAir fan for fast and even heating without rotating the food
Healthy frying & grilling without burning the fat
Frying & grilling without the smell of burnt oil
Removable container with non-stick surface
Removable grill grate with non-stick surface
Dishwasher safe frying basket and frying grid
Digital LED display with touch sensor control
Heat-insulated CoolTouch container handle and fryer shell
Sound signal for the end of baking
High durability SUS304 stainless steel heating coil
Slip-resistant feet for maximum stability
Overheat protection
Start-up protection without inserted container
Power 1500 W
Length of supply cable: 1 m
LFGB food safe certification
CE, RoHS certification
Dimensions (w × h × h): 252 × 337 × 318 mm
Weight: 3,97 kgSupplied in two colour variants (black and white):

SALENTE AirFit-BK … black variant
SALENTE AirFit-WH … white variant
Package contents:
Fryer
Frying basket
Frying grid
4 spare silicone frying grid feet
Instruction manual (EN, DE, CZ, SK, HU, RO, IT, SLO)