Unique combination of weighing accuracy to tenths of grams and kilograms
The Salente DiamondCook scale is a unique combination of a classic kitchen scale with a weighing capacity of up to 3 kg and a precision decimal scale capable of weighing e.g. 5 grams of coffee, 8 grams of yeast or a precise dose of pharmaceuticals to the nearest 0.1 gram.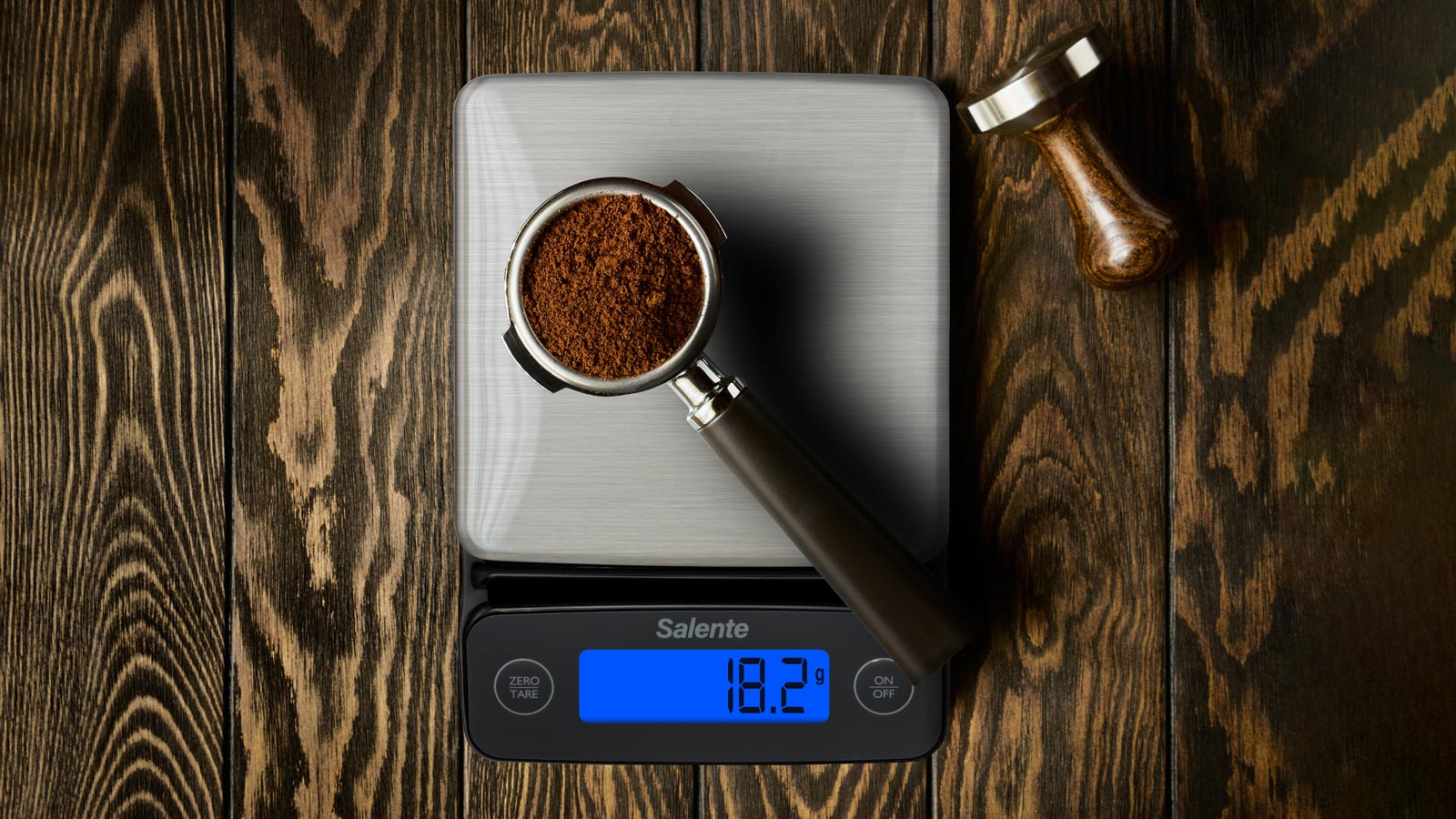 Contrast blue backlit display
Allows you to work even in difficult lighting conditions.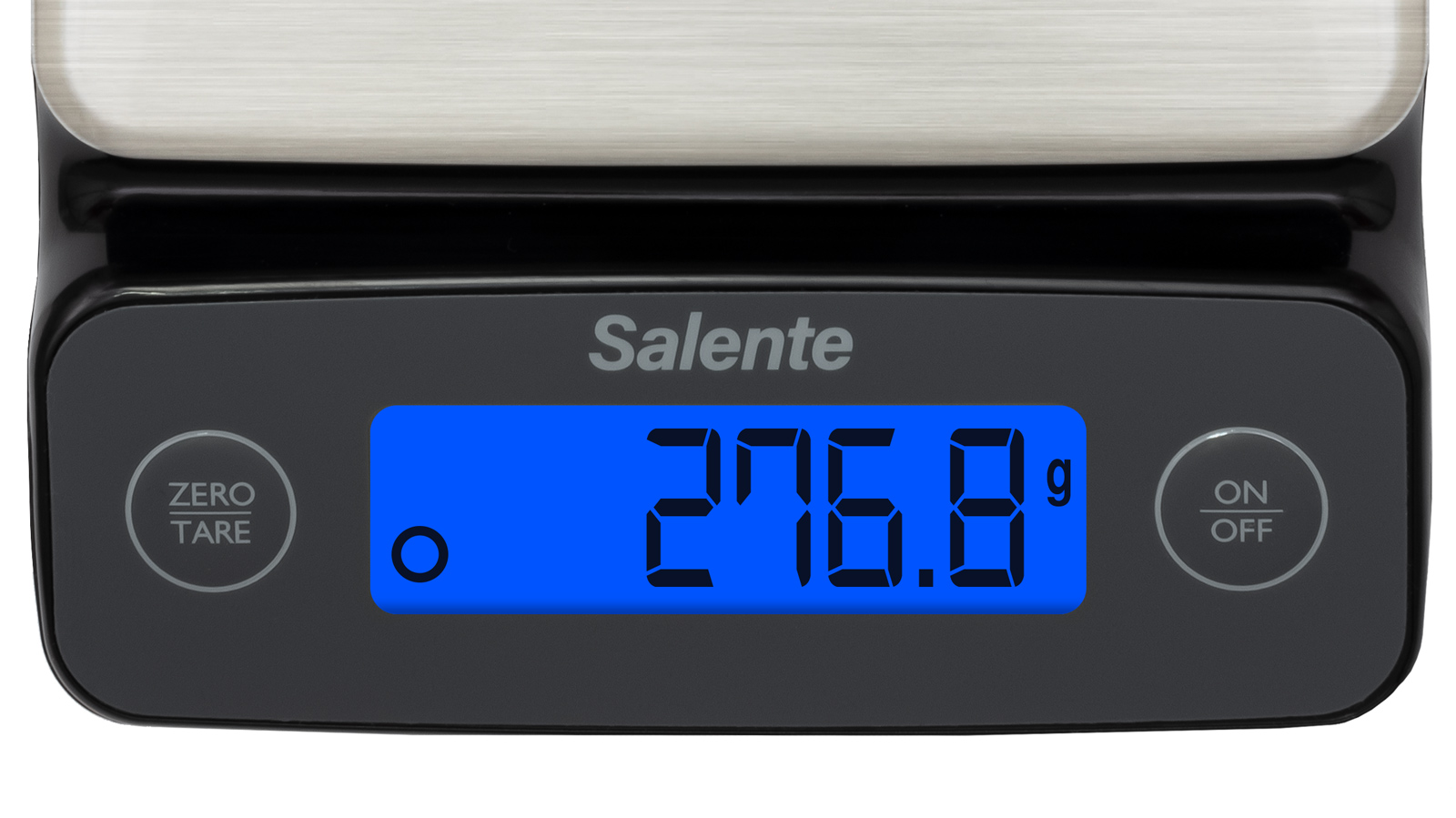 Stainless steel weighing surface with LFGB certification
with unstructured hygienic surface for easy and quick cleaning. LFGB certification guarantees direct and safe contact with foodstuffs.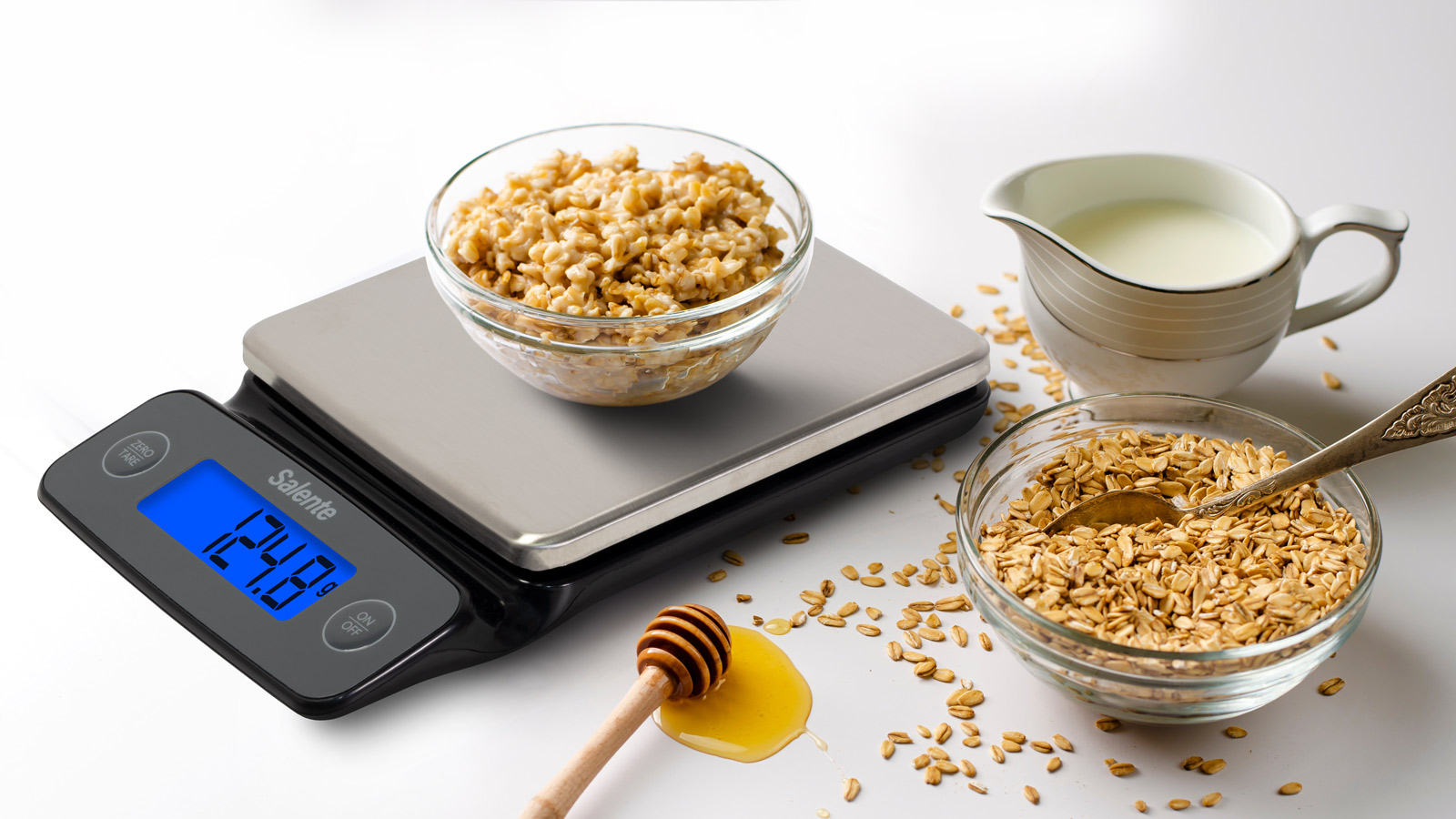 Function Zero
for zeroing the weight of weighing utensils.
Functions of Tara
for gradual weighing and counting the weight of ingredients.
1. Place the weighing pan on the scale.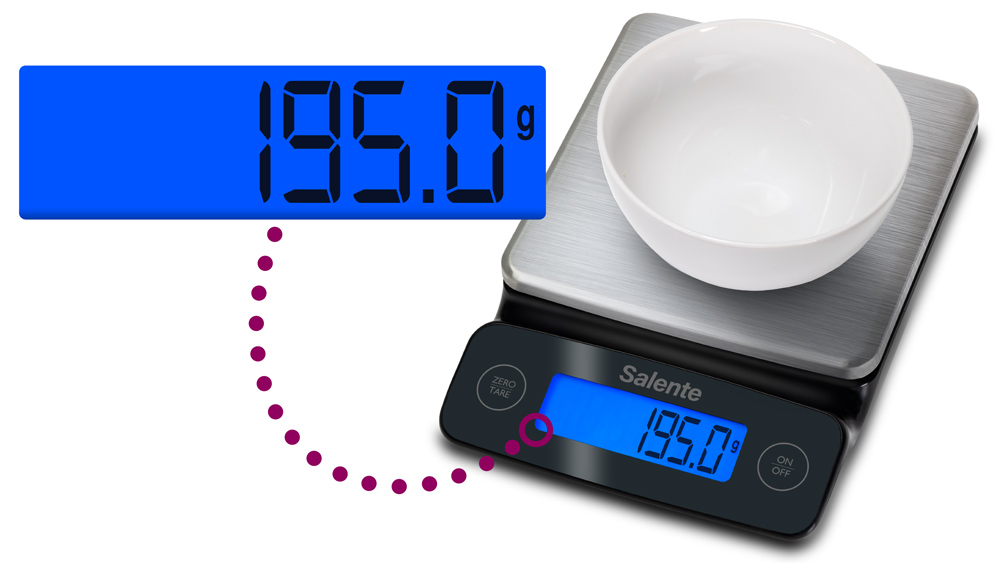 2. Reset the bowl weight with the "ZERO button."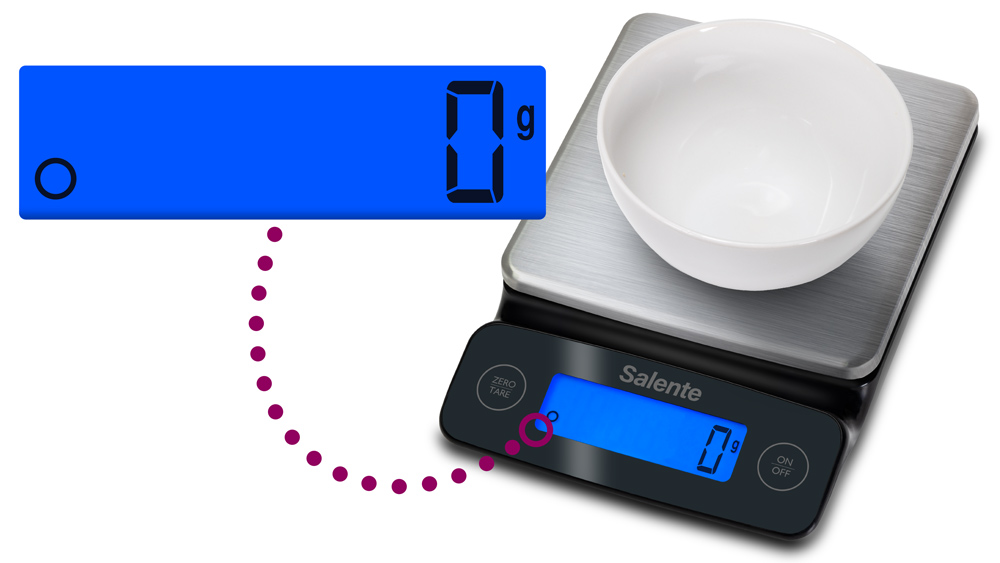 3. Now you weigh the weight of the raw material (e.g. 400 g) without counting the weight of the bowl.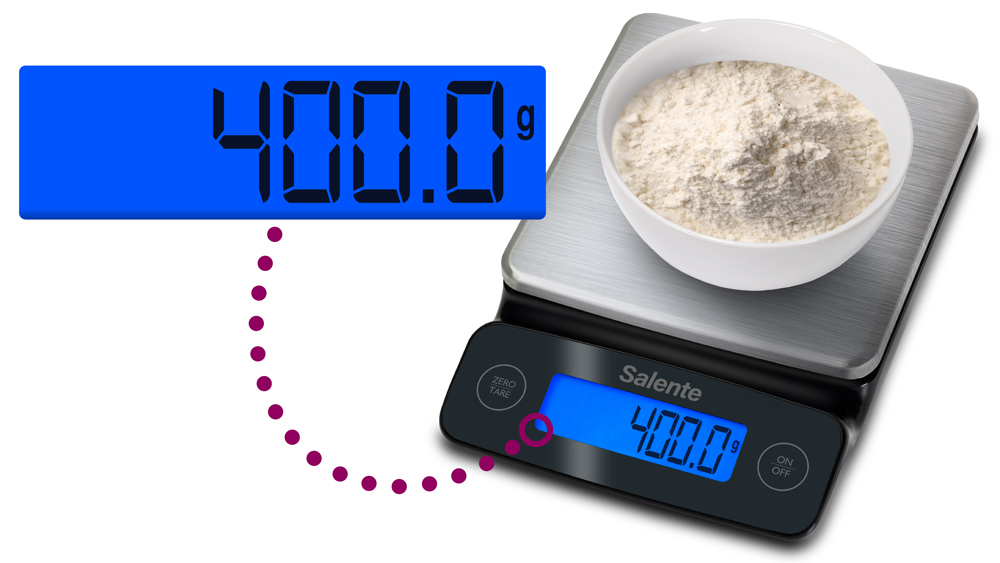 4. Adding another ingredient automatically adds its weight (e.g. 50 g) to the previous weighed value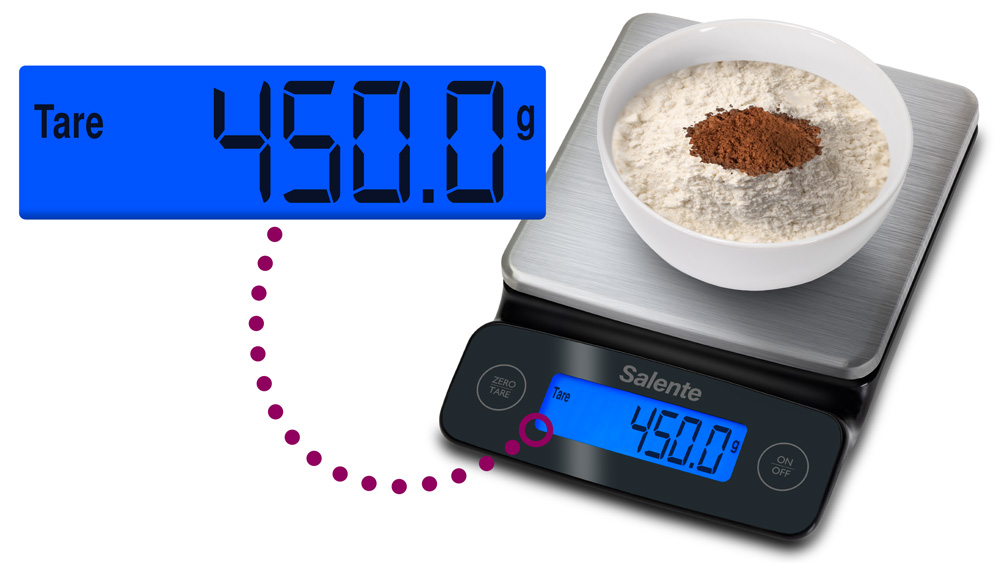 Display BatterySaver
Automatically switch off the display backlight after 30 seconds of inactivity.
Scale BatterySaver
automatic shutdown function of the whole scale after 2 minutes of inactivity.
More than a smart scale
The smart function of the scale will alert you, for example, when the battery needs to be replaced or when the maximum weight is exceeded.
Complete Specifications:
Max. weighing capacity 3 kg
Resolution 0.1 g up to 200 g
Resolution 0.5 g to 1 kg
Resolution 1 g to 3 kg
Can weigh coffee, yeast, medicines and small items to tenths of grams
Stainless steel weighing surface
Extra large LCD display (6.5 × 2 cm)
Blue backlit high contrast LCD display
Hygienic stainless steel weighing surface certified for direct contact with food
Smooth unstructured weighing surface for easy and quick cleaning
Zero weighing vessel weight function (Zero)
Function of gradual weighing and adding weight of ingredients (Tara)
Very compact and space-saving dimensions
4 non-slip rubber feet for maximum stability and minimum slipperiness on the surface
Large control buttons for easy operation
Separate button for switching on/off the whole scale
Units selectable (g/lb:oz)
Display BatterySaver (automatic switching off of the display backlight after 30 seconds of inactivity)
Scale BatterySaver (function of automatic shutdown of the whole scale after 2 minutes of inactivity)
Perfect indication of exceeding the maximum weighing capacity of the scale (> 3 kg)
Right indication of battery replacement
Power supply: 2x 1.5 V alkaline AAA batteries (included)
LFGB certification for safe contact of the scale surface with food
CE, RoHS certification
Dimensions (w × h × h): 12.8 × 18 × 2.5 cm
Weight (without batteries): 306 g
Contents of the package
Weight
Alkaline battery (2x AAA)
Instructions for use