3-in-1 robotic vacuum cleaner with a mobile application
The Salente G4 can simultaneously vacuum clean, mop, and disinfect with an embedded UVC lamp. Using its SMART gyroscopic navigation and easy control of the space to clean via the mobile application in English, it can easily, quickly, and perfectly clean your partitioned flat or house, and when the cleaning is done it returns back to its charging station.
SMART gyroscopic navigation
Having SMART gyroscopic navigation significantly decreases the repeated number of runs and ensures better orientation in the space, thereby reducing the time necessary for cleaning. This allows the vacuum cleaner to cover almost 100% of the cleaning space, automatically recognising when its job is done and returning to the charging station.
Control your vacuum cleaner anywhere
Any place you go, the mobile application in English enables you to control your vacuum cleaner via your mobile phone or tablet. It informs you of the vacuum cleaner's current status, allows you to start different cleaning modes, set vacuuming or mopping levels, or scheduled cleaning times. If you are not fans of modern technology, or if you do not have a Wi-Fi connection at home, you can control your vacuum cleaner via the supplied remote control or use the buttons on its body.
Cleaning without viruses and bacteria
Add a suitable disinfectant to the water container or directly onto the mop to achieve an even better level of cleaning.
Perfect disinfection using UV-C radiation
The robotic vacuum cleaner Salente G4 is equipped with a modern UVC lamp, which, by emitting UV-C radiation, destroys 99.99% of viruses and bacteria on the irradiated surface. The UV-C light damages the DNA and RNA of pathogens, eliminating their ability to reproduce, thus achieving fast, convenient, and effective disinfection.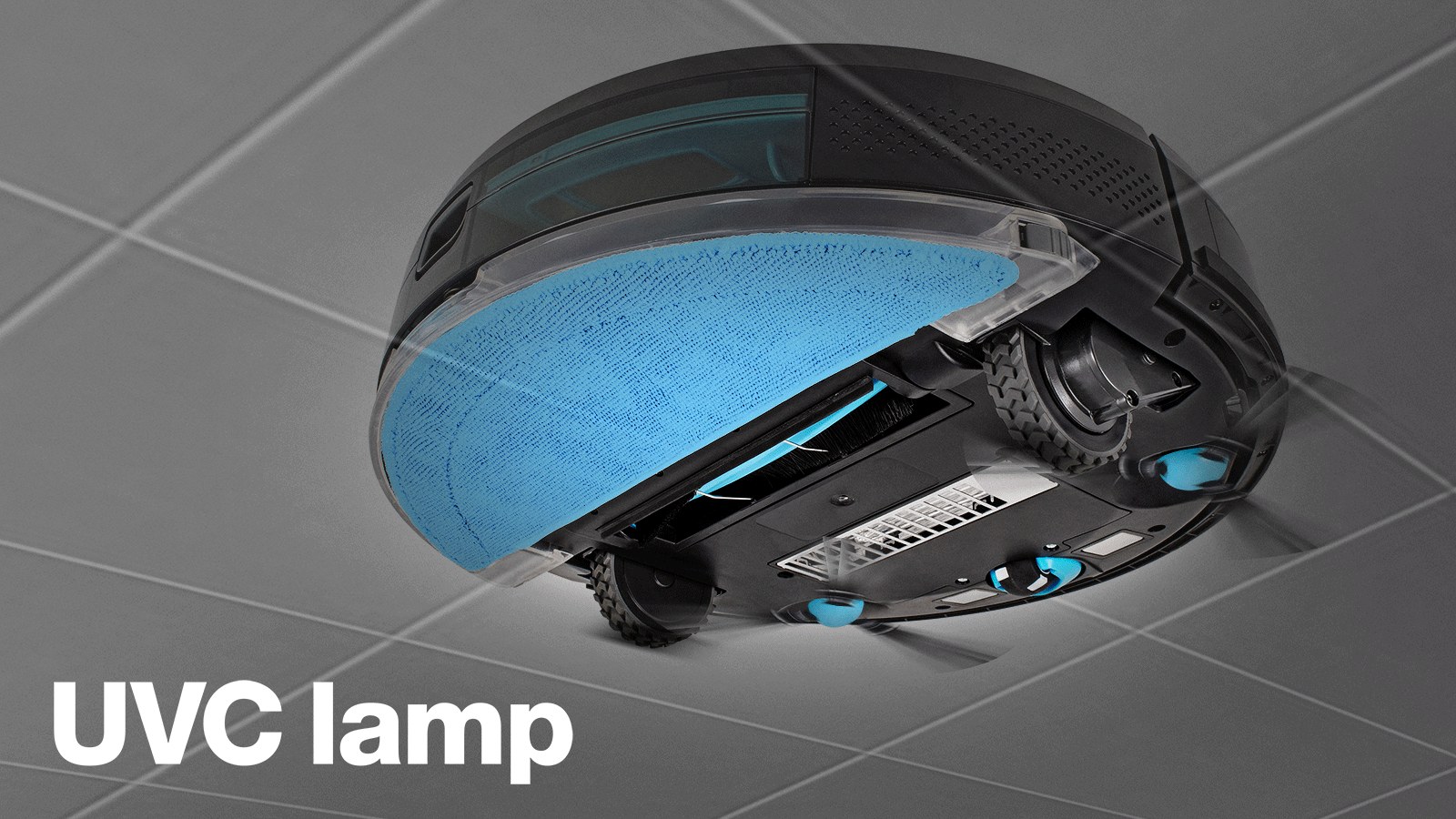 Vacuums and mops simultaneously
The vacuum cleaner is equipped with a combined water and dust container that allows full vacuuming and mopping at the same time. The vacuum cleaner vacuums and mops in one go, making cleaning faster and more efficient. The electronically controlled dispenser can be set to three mopping levels and is therefore also suitable for wooden and parquet floors. If you want to vacuum clean only, you can use the 600 ml dust container in combination with three-levels of vacuuming.
Central TURBO brush and two lateral brushes
The central TURBO brush with its combination of bristles and rubber blades is suitable for all types of floors or carpets, and can even handle pet hair. A pair of anti-static side brushes clean around furniture, along walls, and other hard-to-reach areas.
Adapting to floor surfaces
The vacuum cleaner automatically detects your type of floor and adapts its performance to fit. After crossing onto carpets, the power is increased for more effective cleaning, and when returning to a tiled or hardwood floor, the power returns to its original value.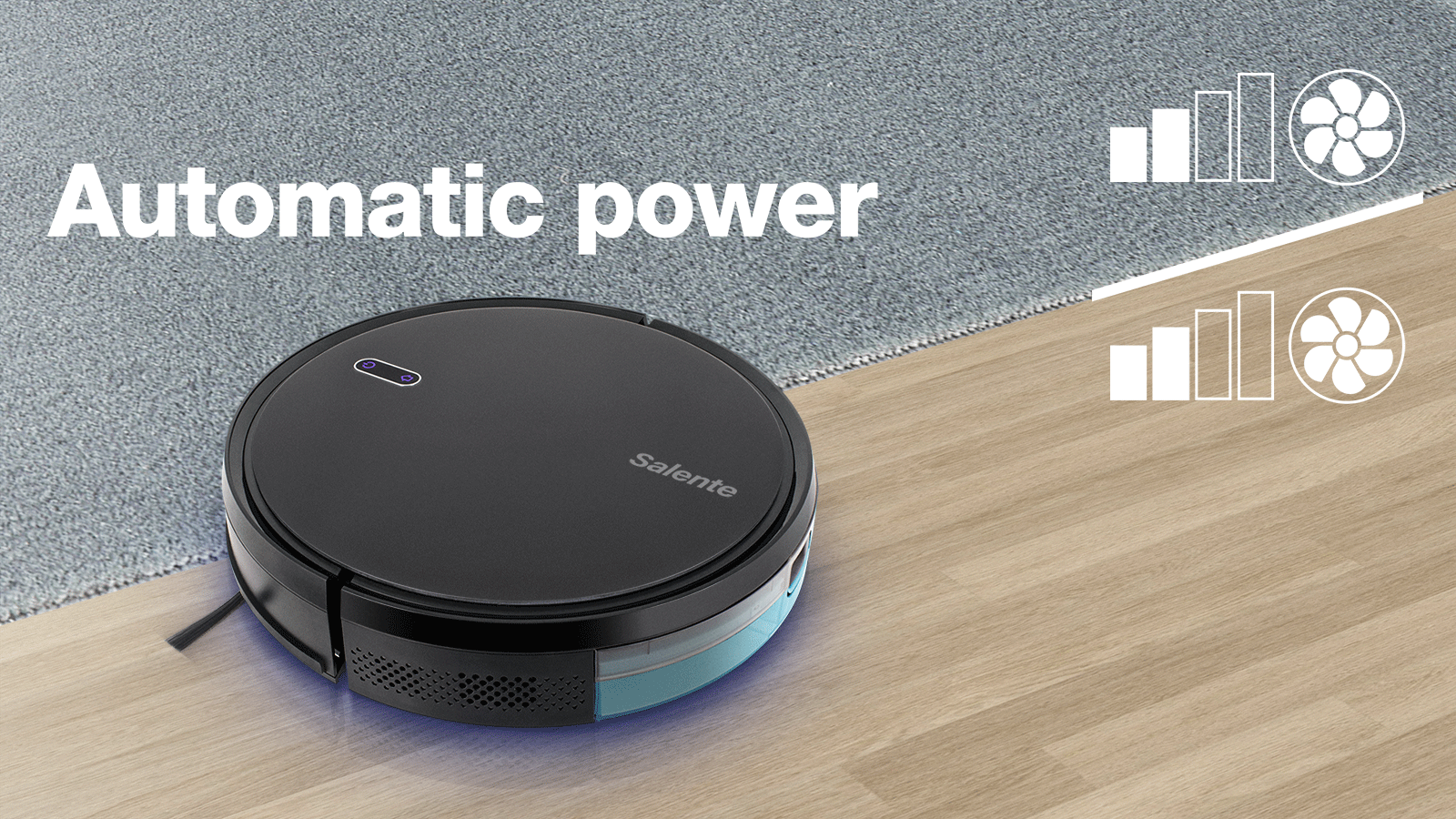 Scheduled cleaning
Your vacuum cleaner enables you to schedule the cleaning for the time and day of your own choice, and to make sure the cleaning is done even when you are not at home.
Virtual walls
The Salente G4 package includes a magnetic strip that prevents the vacuum cleaner from going to places you do not want it to go. You can delimit the space where you do not want your vacuum cleaner to do the cleaning.
Three filtration levels with a washable HEPA filter
Three-level filtration with a washable HEPA filter helps capture fine dust, allergenic mites, and animal allergens. It also prevents small particles from escaping back into the air. The HEPA filter is washable and can be used repeatedly.
Sensors preventing falls and collisions
The vacuum cleaner is equipped with sensors preventing it from falling off the steps and colliding with household items. The sensors will prevent the vacuum cleaner from falling down stairs and protect your furniture and the cleaner itself against crashes and damage.
It moves smoothly over and through the cleaning area
The large wheels and powerful motor can carry it over obstacles up to 20 mm high, including thresholds and carpets.
High-capacity battery
The high-capacity 2600 mAh…