Robotic vacuum cleaner with laser navigation and UV sterilisation that speaks English
Thanks to its 360° radar, the Salente L7 ensures effective and fast cleaning. It never covers the same area repeatedly and resumes cleaning from the spot where it stopped. It informs you of its status by voice commands in English, and you can control it from anywhere with the mobile app. The built-in UVC LED lamp rids the cleaned area of viruses, bacteria, and other pathogens and the new Y-mop mode ensures even more efficient cleaning. The package also includes a special foam roller for fine dust as well as a combined "vacuum and mop" container that allows you to mop and vacuum at the same time. The large 5200 mAh battery, efficient and powerful BLDC motor, and automatic cleaning function ensure that no space is too big for the Salente L7.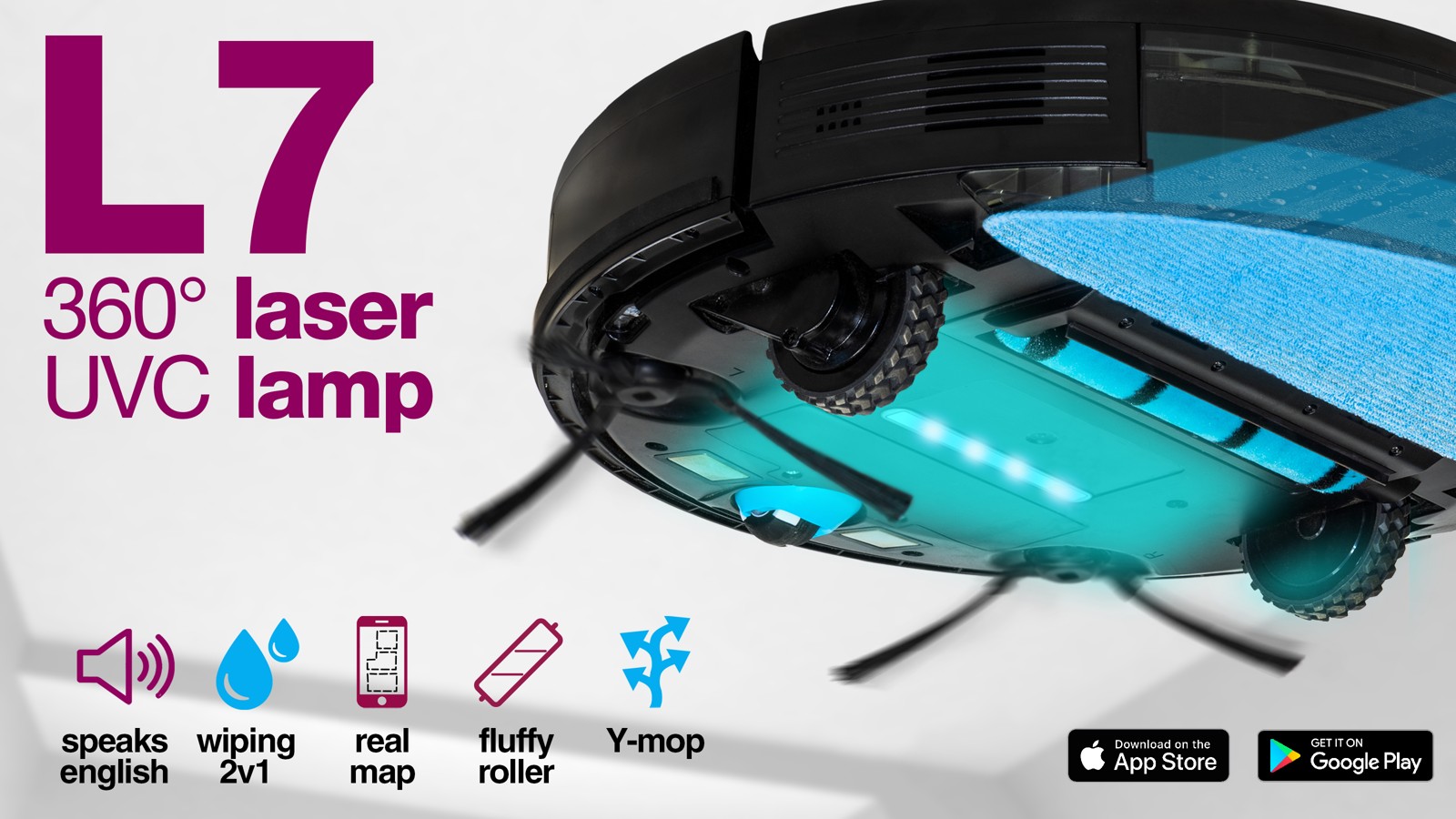 UVC lamp
The Salente L7 is equipped with a modern UVC LED lamp, which, by emitting UV-C radiation, destroys 99.99% of viruses and bacteria on the irradiated surface. The UV-C light damages the DNA and RNA of pathogens, eliminating their ability to reproduce, thus achieving fast, convenient, and effective disinfection. The UV-C lamp can be activated in standard cleaning mode using the mobile app or the remote control.
UVC sterilisation mode
This is a stand-alone cleaning mode where the primary goal is to sterilise the cleaned area. In this mode the robot moves significantly slower, reducing brush speed and suction power to achieve the most efficient level of sterilisation.
Y-mop wiping mode
For spotlessly perfect cleaning the robot is equipped with a new wet mopping mode – Y-mop. In this cleaning mode, the robot moves along a Y-shaped trajectory for more efficient cleaning. It can clean dried stains or rougher floor surfaces more easily.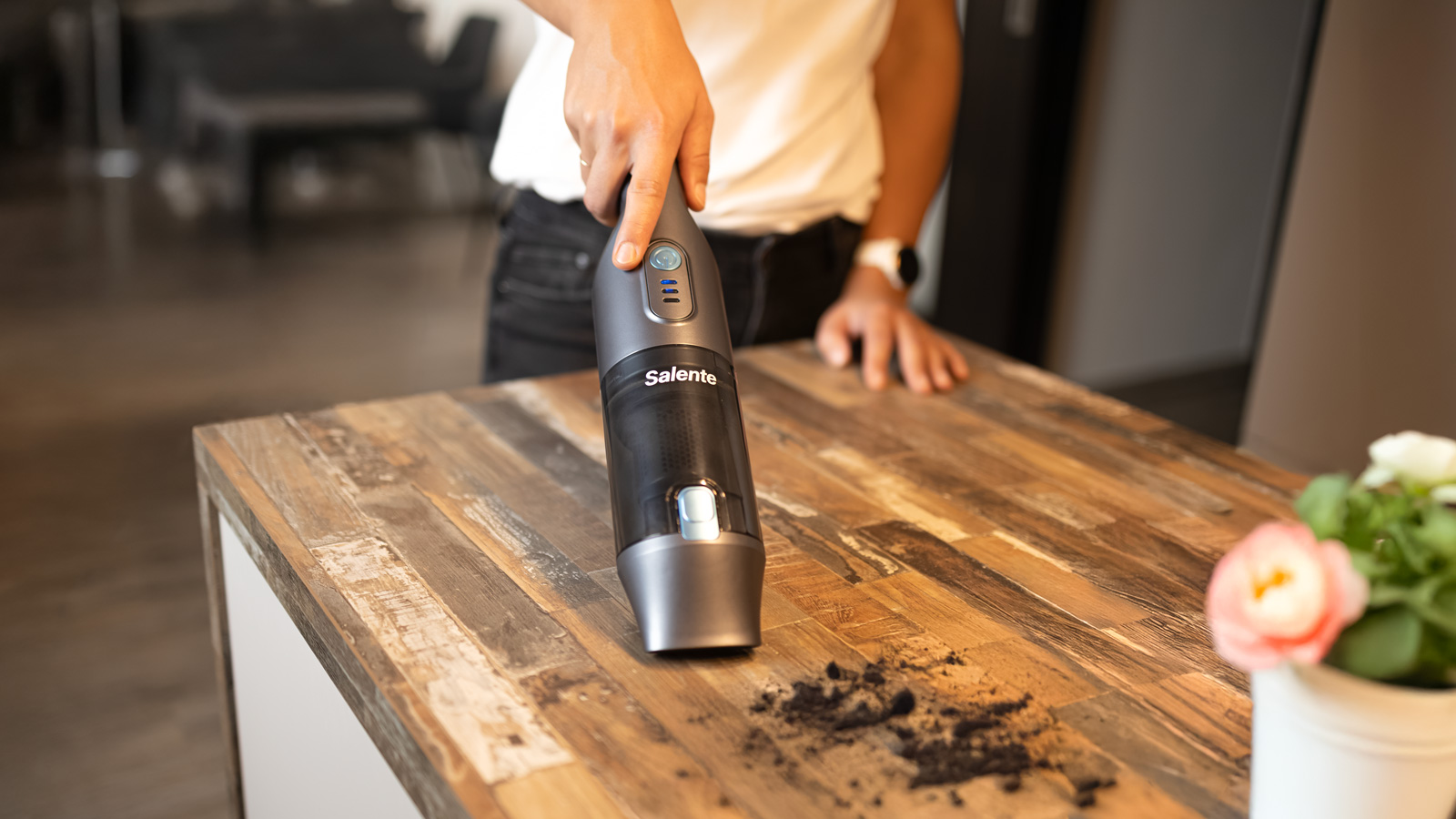 Speaks English
The vacuum cleaner speaks English. It will tell you when it has finished cleaning , low battery , and more than a hundred other situations. And that is one of the reasons the Salente L7 is so easy to use.
Mobile app offers control from anywhere
The intuitive Salente app allows you to control your vacuum cleaner from anywhere. It informs you of the current status of the vacuum cleaner, allows you to start different cleaning modes, set vacuuming or mopping levels, scheduled cleaning times, or times when you do not want to be disturbed. The app for Android and iOS is in English.
Voice control
The Salente L7 supports modern, voice-control technologies. It is compatible with Amazon Alexa or Google Home, and can be controlled by voice. You can also operate it using the mobile app and the supplied remote control.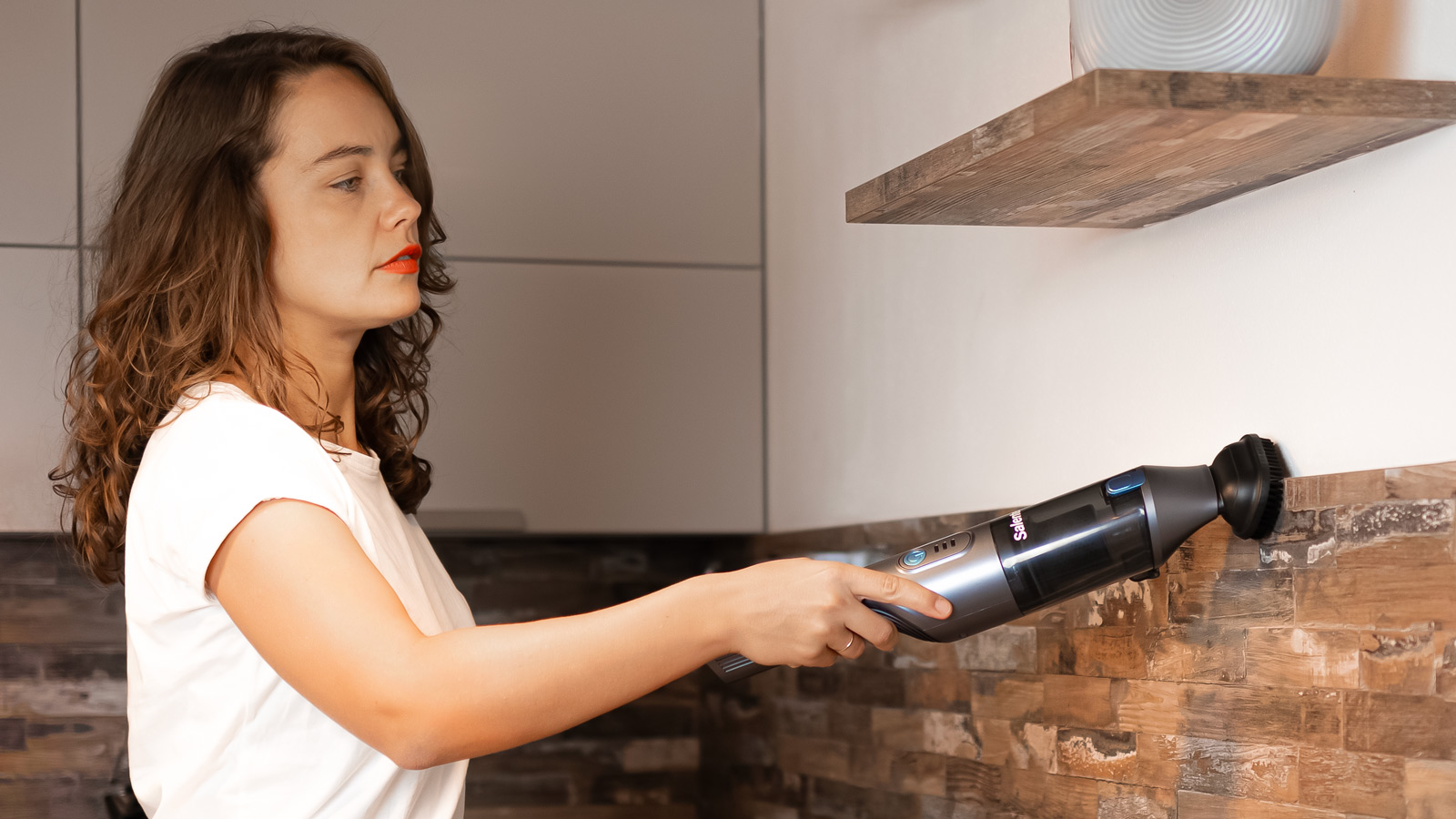 Vacuums and mops simultaneously
Salente L7 is equipped with a combined "vacuum and mop" container that allows full vacuuming and mopping at the same time. When fitted with this container, the vacuum cleaner vacuums and mops in one go, making cleaning even faster and easier. The electronically controlled dispenser can be set to three mopping levels and is therefore also suitable for wooden and parquet floors. If you only want to vacuum, the 600 ml dust container can be used.
Cleaning without viruses and bacteria
Add a suitable disinfectant to the water tank or directly onto the mop to achieve an even higher level of cleaning.
Three filtration levels with a washable HEPA filter
Three-level filtration with a washable HEPA filter helps capture fine dust, allergenic mites, and animal allergens. It also prevents small particles from escaping back into the air. The HEPA filter is washable and can be used repeatedly.

Rotating foam roller for fine dust and coarse impurities.
The device's revolutionary rotating foam roller was developed to completely vacuum up even the finest particles of dust from hard floors. At the…