Salente SmartDust 3.1 wet wipe stick vacuum cleaner
The Salente SmartDust 3.1 is a new generation intelligent vacuum cleaner. Using a smart sensor, it can detect the amount of dust and dirt and adjust its performance accordingly. This extends the vacuuming time, reduces noise and increases battery life. The vacuum cleaner can vacuum for up to an incredible 90 minutes.
intelligent battery management
brush lock sensor
digital display
intelligent dust sensor
full container indicator
intelligent noise optimization
clever vacuuming
Smart dust sensor and three working modes
The Salente SmartDust 3.1 vacuum cleaner offers three vacuuming modes that are selected via a touch button. In AUTO mode, it uses a sensor to detect the amount of dust and dirt, which automatically adjusts its performance according to the degree of dirt on the floor. This intelligent automatic mode extends battery life and reduces cleaning noise. If necessary, you can use the MAX mode, which offers high suction power up to 28 kPa, and the ECO mode can be used for curtains or blinds, for example.
intelligent dust sensor
clever vacuuming
intelligent noise optimization
performance modes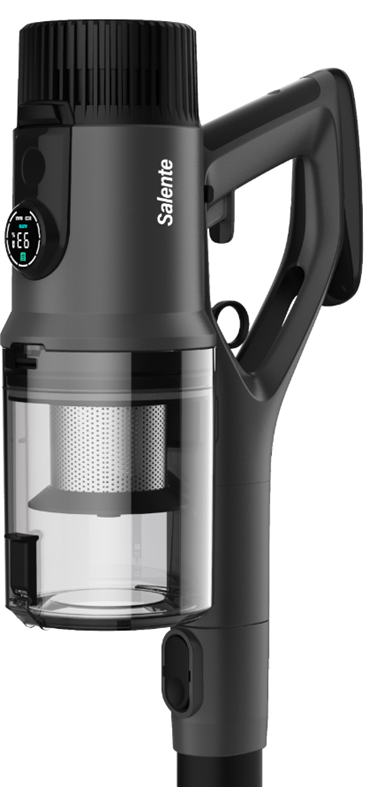 The intelligent HMI display puts you in control
A set of sensors in conjunction with a colour digital display informs the user about everything important. Displays the battery status when vacuuming or charging, the selected working mode, the need to empty the dust container or a blocked rotary brush.
digital display
brush lock sensor
full container indicator
intelligent battery management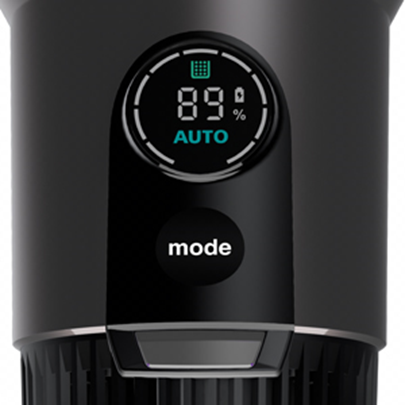 Vacuum cleaner with LED light and brushes for cleaning carpets and hard floors
The Salente SmartDust 3.1 vacuum cleaner is equipped with a powerful vacuum nozzle with its own motor to drive the brush. The rotating brush cleans the floor or carpet better and makes cleaning more efficient. There are two brushes that can be easily replaced. One features a combination of soft and hard bristles and is suitable for all types of floors including carpets. The second has a soft surface and is designed primarily for hard floors.
The sponge is complemented by LED lighting to help when cleaning under furniture or in the dark.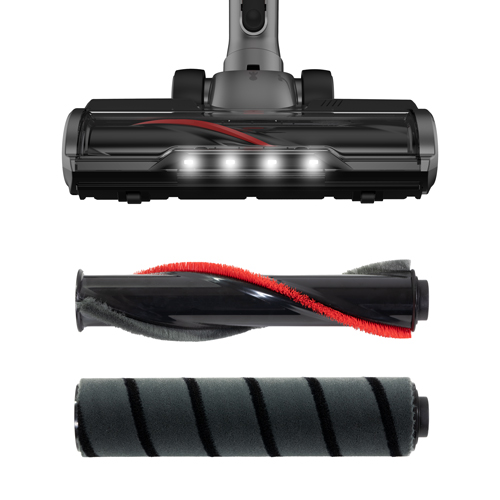 Vacuums and mops simultaneously
A mop attachment with mop can be attached to the vacuum nozzle. The vacuum cleaner thus vacuums the dirt and at the same time wipes the floor with a damp mop. This achieves more efficient and faster cleaning. The mop can be easily removed and washed in the washing machine.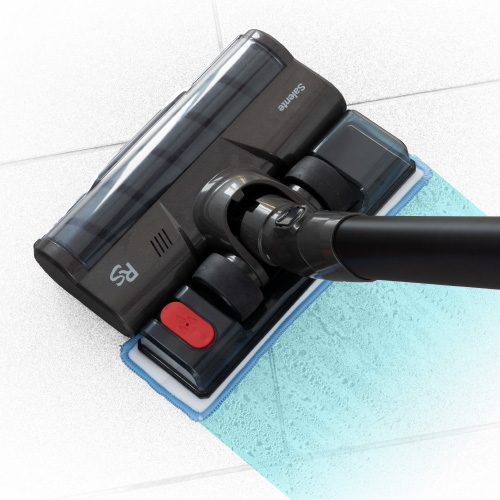 Handheld vacuum cleaner
Easily detach the vacuum nozzle and vacuum tube to get a handheld vacuum cleaner that you can use for your next cleaning job. Use the crevice nozzle to clean hard-to-reach areas, the bristle brush to gently remove dust from blinds, books or keyboards, and the upholstery nozzle for furniture.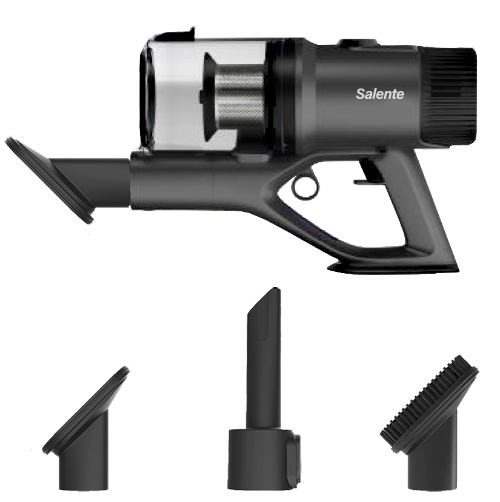 Easy maintenance
Maintenance of the vacuum cleaner is very simple and you do not need paper replacement bags to operate it. Dirt is sucked into a 0.7 litre container. The container is also equipped with a return flap that prevents dirt from falling out when handling the vacuum cleaner. When you're done cleaning, simply release the latch on the container and empty the contents. The filter is washable and can be cleaned and used repeatedly.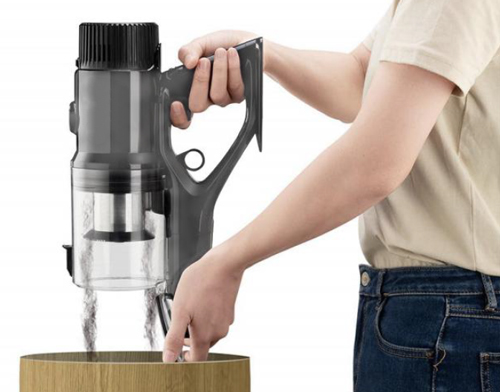 Removable battery with extra long battery life
The vacuum cleaner has a removable Li-Ion battery with a capacity of 2500 mAh, which ensures operation of the vacuum cleaner for up to 90 minutes. So you can clean your apartment or house without interrupting the cleaning process.
Wall holder
Salente SmartDust 3.1 comes with a handy wall mount with integrated power connector and accessory holders.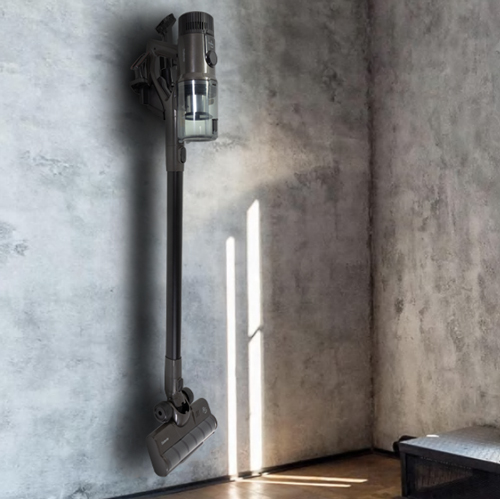 Key Features
Handheld vacuum cleaner
Type vacuum cleaner
Mopping attachment
Motorised nozzle with LED light
Rotary brush for carpets and hard floors
Smart dust sensor
Three suction modes ECO, AUTO and MAX
Vacuuming time up to 90 minutes
Advanced HMI display
Powerful BLDC motor 400W
High suction power up to 28 kPa
Large 0.7l container
Li-Ion battery 37 V with 2500 mAh capacity
Charge time 4-5 hours
Bagless operation
Practical charging holder
Noise level <78 dB
Dimensions 1130mm × 250mm × 265mm
Weight 2.9 kg
Contents of the package
Salente SmartDust 3.1
Premium vacuum tube
Motorised nozzle
Carpet brush
Hard floor brush
Štětinová hubice
Upholstery sponge
Štěrbinová hubice
Mopping attachment
Wall holder
Charging base
Charging adapter
User manual